Take a break for a reset.
Where a group of like-minded people comes together to celebrate Sisterhood and Brotherhood.
To strengthen our lifeforce energy, to bring our vibration into the frequency of love by activating and healing our main energy centers, the chakras with effective exercises from yoga, qigong, meditation, Theta Healing and the power of self-inquiry.
And to transform our mindset. Because when energy shifts, things in our lives change.

These tools will help you with healing relationship wounds, improving your intuitive communication, and deepening your connections with your loved ones.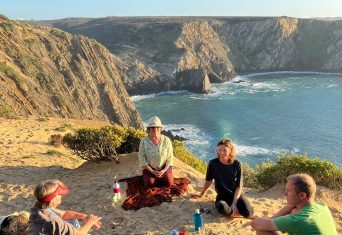 Imagine...
to dive off into a beautiful villa with a pool close to the sea. A week of Sister- and Brotherhood, lots of fun, deep conversations, and transformation.

Powerful chakra cleansings, mediations and a heart-opening cacao ceremony, so that love can flow freely again.

Journaling exercises to bring a fundamental shift in consciousness.

Hiking along the breathtaking cliffs of the west coast.

Additionally (not included in the price) a surfing course, Astrological Reading, Theta Healing Sessions can also be booked.
WHY DO OUR CHAKRAS HAVE TO BE OPEN
It's about bringing you back into love or beyond!
Our fall retreat is about our relationships. About our relationships with ourselves and with others. 
We will heal old patterns that have been blocking us and making us repeat the same toxic experiences over and over again.
We do this by focusing on our 7 main chakras in the body for 6 days with exercises from yoga, qigong, theta healing, meditation and digging deeper by asking specific questions. Especially on our three lower chakras, the earthly chakras. Because our life themes are drawn to us through the first chakra in our body, the root chakra, depending on what kind of blockages we have.
And by honestly looking at our life issues, we can release these blockages in our energy centers. So your energy can move quite freely in your nervous system and the prana channel that is along your spine. This is because this prana channel becomes more light when more energy can flow up and down at a higher frequency. As a result, your consciousness will sharpen. You will learn how to perceive yourself better, to live in such a way that you recognize what is effective and what is not. What is healthy and what is not. After this week you will feel more joy in life again, feel free again, feel more gratitude and in the best case you will have dissolved many emotions from the past that are blocking you to move forward.
When a chakra is out of tune, meaning it is not letting in enough or any life force energy, it begins to affect your balance. And my intention is that your energy can move freely in your nervous system again.
I look forward to seeing you!
Yours Patricia
Date: 08.10. – 14.10.2023 | Arrival: 4pm-7pm Departure: 11am
Arrival Day: Arriving, Sharing Circle & Dinner.
Following days: We will practice daily for about 4 hours (2 hours in the morning and 2 hours in the evening). The afternoons around 12 o'clock are free except for two afternoons (hiking, cocoa ceremony).
Departure Day: Breakfast, till 11am departure.
Costs:
Villa with 4 bedrooms each with double bed total 1080,- Euro for 6 nights (minimum 3 persons 360,- Euro per person for 6 days)
Number of participants: min. 3 persons to max. 5 persons
Catering: 210,- Euro per person/breakfast + dinner
Seminar costs: Early bird 480,- Euro per person bis until 31.03.2023 from 01.04.2023 the seminar price is 560,- Euro per person.
Flight and arrival must be booked individually. Flight and arrival must be booked individually. The nearest airport is Faro. The Villla is appr. 1h and 15min away from the airport by car. Die Fahrt vom Flughafen zur Villa dauert ca. 1 ¼ Stunden mit dem Auto.
I recommend renting a car, for example via www.luzcar.com or www.zitauto.com 
A Taxi can also be organized from the airport it's around 100,- Euro. I will be happy to help with this.